Personalised Skin Analysis
Guys whatever your skin concern is a personalised skin analysis is an in-depth analysis of your skin. If you are like many men, you may have skin issues. This can be chafing from shaving, or from keeping a beard. For instance, you may have not grown out of adult acne.
Therefore guys to properly care for your skin, you first need to know your skin type. At Skinic, our state-of-the-art skin analysis allows us to identify your type of skin and to see it close up. The AI 8 spectrum magic mirror skin analyser, with its 28 million ultra-high-definition pixels, will take clear images to look at 14 kinds of problems on the surface and deeper layers.
Our latest technology is able to detect:
Irregular skin – dehydrated skin
Texture – signs of ageing
Pores – hyperpigmentation, blackheads, acne
UV Spots
Skin Discolouration
Vascular Areas – Capillary rupture, inflammation or redness
Bacteria and Oil
With computerised precision, the analyser easily captures and automatically analyses every aspect of your face. As a result, it will identify exactly what and how much damage your skin has suffered from sun exposure and environmental factors.
The analyser will take several photographs of your face, and takes a matter of minutes.
With a comprehensive personalised digital skin analysis, we are able to tailor your treatments and skincare products to your skin concerns, maximising both the repair and correction of your skin health. Therefore, this innovative system, you do not have to wait for skin conditions to reveal themselves.
So guys, you can take action now to keep your skin looking and feeling its best.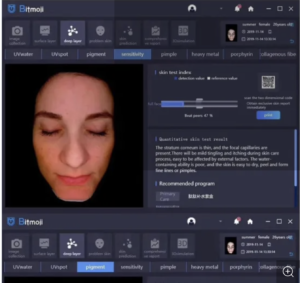 Conditions this treatment may help with: