Everything you've always want to know
Some of us are just super-hairy cavemen. There's nothing wrong with that – that's just how we were 'engineered' and it's important to appreciate what we have.
However, it's fair to say that there can be embarrassing situations which we can all do without. Taking your shirt off at the beach or when walking towards the pool and all eyes are on you! Or even your spouse complaining that you're a little too hairy for comfort!
Men's hair removal is not something new. In fact, many men undergo regular treatments to get their bodies looking smooth and shiny. Great, if you're already a gym-goer, because believe it or not, you're really going to be turning heads the next time you take your shirt off at the beach. 
Why men should groom their bodies
So what's the best way for men to groom bodily hair? Shaving, trimming and waxing works but it can get uncomfortable and even irritate the skin while wearing certain kinds of clothes.
The answer is laser hair removal for men. Here's what it is and how it works: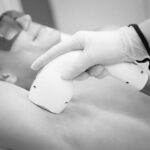 Laser hair removal uses laser light technology where lasers emit pulses of light into the skin, effectively targeting the root and hair follicles. Once these two have been 'zapped', hair no longer grows back like it normally does after waxing or shaving. These results being permanent hair reduction.
Laser hair removal is now becoming more popular among men of all ages. With the chest, arms and back being popular areas. Although many men opt to have laser hair removal done on their legs and around private parts as well.
Men who feel uncomfortable with excess hair on their chest, stomach and back, or anywhere really, are ideal 'candidates' for laser hair removal. It's important to quickly clear up a misconception when it comes to laser hair removal for men. That it leaves you completely hairless like a cover model. This simply isn't true because the laser intensity can be adjusted to thin out body hair in order to make them finer and sparser – rather than zapping them into oblivion!
Is laser hair removal for men painful?
Not at all – unless you call a tingling and fuzzy sensation 'painful'. With that said, men who have really coarse hair have reported a somewhat uncomfortable sensation, but that comes down to two things. Pain perception/tolerance and the way the laser is used. An experienced male aesthetic specialist will always use the laser in small bursts so that smaller chunks of energy rapidly target the area. You will literally feel no pain, other than a tingling sensation. 
What areas can be treated?
Laser hair removal is effective in targeting any area of the body. Well, apart from the eyelids, that is, but then again, you need not worry about those anyway. 
The most popular area among men are:
Stomach
Chest 
Back
Neck
Backside
Groin
Between the eyebrows
However, you can also use laser hair removal to target areas around the ears, nose and bikini line.
For more information visit our social media channels: