Hydrafacial, Hydrodermabrasion or Hydrofacial is a popular treatment for men. Its non-invasive treatment is suitable for all skin types and can be performed as an express service.
What is the difference between Hydrafacial vs Skinic Hydrofacial
Hydrafacial is a trademarked brand name of a hydrodermabrasion skin resurfacing treatment that cleanses, exfoliates, extracts and hydrates the skin. With a patented vortex system, Hydrafacial removes dead skin cells and other impurities while saturating the skin with serums that will cleanse and moisturise the skin.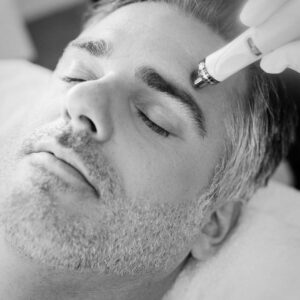 As such,
Hydrodermabrasion is a dermatological treatment that can be described together as Hydrafacial and Hydrofacial. The Skinic Hydrofacial treatment uses hydrodermabrasion and infuses the skin with serums to hydrate, cleanse and moisturise the skin.
Skinic Hydrofacial uses water, oxygen and cleansing products to cleanse and exfoliate the skin without any abrasive equipment or technology. By using this action we are able to hydrate the skin at a deeper level to achieve optimum youthful/healthier skin. Our procedural steps work by exfoliating the skin using mild and non-irritating serums which allows soft exfoliation and induced shedding of keratinocytes. This at the same time delivering serums deep into the skin surface, for regeneration and repair.
So what's the difference between Hydrafacial vs Hydrodermabrasion? Hydrafacial is a registered trademark with a patented hydrodermabrasion system. Whereas Skinic's Hydrofacial Hydrodermabrasion is the definite process. At Skinic Male Aesthetic Clinic we use a hydrodermabrasion machine which is CE marked and manufactured to high-quality standards. We adhere to using high-quality serums and target the male skin by providing the best results for our clients – regardless of brand.
Our clients can't tell the difference in the process we offer or see any physical distinction in the results regardless of the brand name or machine used.
We entirely accept that their or so many treatment choices on the market, and it can be bewildering to work out absolutely which treatment or protocol is right. Therefore, here at Skinic our mission is to Treat, Tone and Improve, giving each person the effective options tailored to your skin care needs.
To book your Skinic Hydrofacial call us on 0115 7847128