Effective Solution to Male Hair Loss
Hair loss in men can lead to a variety of self-confidence and even emotional issues. It can affect not just how they see themselves physically, but also how they feel about themselves. But there is an effective solution to male hair loss.
Many men experience a loss in self-esteem and confidence due to hair loss and simply don't feel as young or attractive as they used to. Even though there is a vast range of hair loss treatments for men. Today, many of them lead to health complications and often don't offer feasible solutions.
Scalp Micropigmentation stands as one of the most effective hair loss treatments today. Here's why it's a safe, cost-effective and practical solution for men suffering from hair loss.
Scalp Micropigmentation – What is it?
Scalp micropigmentation is a highly nuanced hair treatment process which creates a very natural-looking simulation of micro-hair.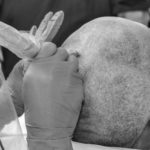 While microblading is a hair treatment done via a manual blade, micropigmentation is done with the help of an electric tattoo device. This allows the practitioner to easily penetrate skin.
The idea behind scalp micropigmentation is not to create hair-like lines as you typically would when getting your eyebrows done. But to use tiny, layered dots in varying tones of black in order to mimic the look of a "shadow" on your scalp. This style of concealing hair loss on your scalp is known as "pointillism", which is done to create the illusion of natural-looking hair with depth and definition.
Your practitioner will ensure that all the dots look completely natural like your existing hair follicles and blend them in with your scalp's texture and complexion. Scalp micropigmentation has proven very useful for people who are:
Completely bald
Suffering from regular hair loss or other conditions like alopecia
Hair loss due to cancer
Thinning hair
Male/female pattern baldness
Top Reasons Men Should Choose Scalp Micropigmentation for Hair Loss
It's an affordable hair treatment
With a variety of hair loss treatments available today, most are very expensive and require regular follow-ups. Scalp micropigmentation, on the other hand, is a very affordable hair replacement treatment which offers immediate results. Furthermore, there's no need for the almost endless post-treatment follow-ups, helping you save plenty of money.
Low maintenance hair treatments
If you Google any hair loss treatment today, you may find it surprising to know the sheer amount of maintenance required after only the first sitting. In fact, some require you to see your hair specialist every month – something which can prove to be expensive and very time-consuming. Scalp micropigmentation for men, however, is a permanent hair treatment solution which requires very little to no maintenance whatsoever.
A safe way to treat hair loss
Scalp micropigmentation does not involve the use of any harmful chemicals, which means side effects are minimal, if at all. There are no incisions involved either, which means the risk of infection is non-existent. Men if you want an effective solution to male hair loss then look at Scalp Micropigmentation.
For more information visit our social media channels
Conditions this treatment may help with: